Please enter search criteria
Item Count:
0
Sub-Total:
$0.00
What affects the resale value of your textbooks?

• At the end of the Fall and Spring Semesters the Bookstore has a Textbook Buyback. This would be THE MAXIMUM $$ RETURN, where students could get up to 50% of the new textbook price. If an Instructor has notified the Bookstore that the book will be reused for the upcoming term and the Bookstore needs additional quantities. Once the Bookstore has filled its quota, the price will drop from 50% to the wholesale price. The wholesale price of the book is determined by national supply and demand, inventory in the wholesaler's warehouse, and edition status
• The book will not be used on our Campus again, or an instructor has NOT yet notified the Bookstore that the book will be used again.

• The Bookstore has sufficient quantities of the book already in stock.

• The textbook has been updated to a newer edition; therefore, the older edition has little or no value.

• The condition of the book may be too poor or incomplete to be resold study guides and workbooks written in or missing pages, books with access codes, etc.

• National demand determines resale value of books that are no longer being used on our Campus.

• Students, please guard your books against theft.
Fall Semester Buyback at the Bookstore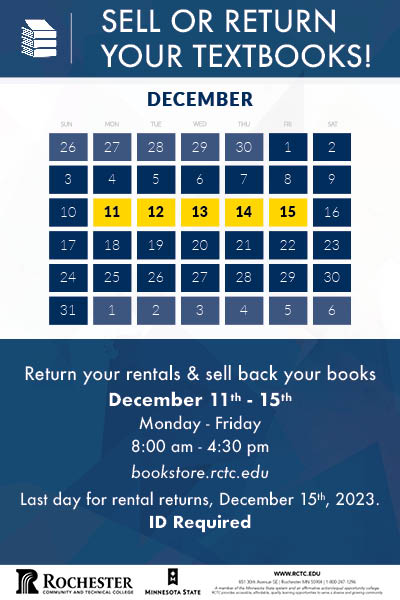 Students you can also sell your textbooks back online!
Rochester Community and Technical College Bookstore | E-mail Us
851 30th Avenue SE | Rochester, MN 55904 | 507-285-7202
bookstore@rctc.edu


Rochester Community and Technical College, a member of Minnesota State. RCTC is an affirmative action, equal opportunity educator and employer.